Events calendar
Promote forthcoming events with links to further information including maps. More...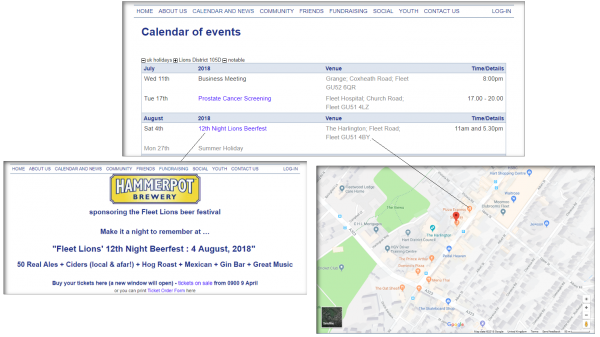 The events calendar is easily updated using the simple form to create and update events.
The administrator is able to control whether public holidays and/or notable dates (such as valentines day) are included.
Add a link to an internal or external page with more details about the event. A map link will be included automatically if you add a Post Code to the Venue. The Venue and Time/Details columns may be renamed to suit your organisation. Multiple events on the same day are sorted by the Time/Details column.
Other calendars:

notable
December

2023

Venue

Time/Details

Mon 25th

Christmas Day

Tue 26th

Boxing Day

January

2024

Venue

Time/Details

Mon 1st

New Year's Day

March

2024

Venue

Time/Details

Fri 1st

St David's Day

Sun 10th

Mothering Sunday

Sun 17th

St Patrick's Day

Fri 29th

Good Friday

April

2024

Venue

Time/Details

Mon 1st

Easter Monday

Tue 23rd

St George's Day

May

2024

Venue

Time/Details

Mon 6th

Early May bank holiday

Mon 27th

Spring bank holiday

June

2024

Venue

Time/Details

Sun 16th

Father's Day

August

2024

Venue

Time/Details

Mon 26th

Summer bank holiday

October

2024

Venue

Time/Details

Thu 31st

Halloween

November

2024

Venue

Time/Details

Sun 10th

Remembrance Sunday

Sat 30th

St Andrew's Day

December

2024

Venue

Time/Details

Wed 25th

Christmas Day

Thu 26th

Boxing Day

January

2025

Venue

Time/Details

Wed 1st

New Year's Day

April

2025

Venue

Time/Details

Fri 18th

Good Friday

Mon 21st

Easter Monday

May

2025

Venue

Time/Details

Mon 5th

Early May bank holiday

Mon 26th

Spring bank holiday

August

2025

Venue

Time/Details

Mon 25th

Summer bank holiday

December

2025

Venue

Time/Details

Thu 25th

Christmas Day

Fri 26th

Boxing Day

The above dates may change without warning
Have a look at some live calendars: