Events calendar
The events calendar is easily updated, simply log-in and use the following form to create and update events. You may link to internal pages for more information or external URLs and if you add a Post Code, a link to a map pinpointing the venue will be included. If Members Only is ticked, the event can only be seen once logged-in. Past events are automatically dropped off so your website is always up-to-date.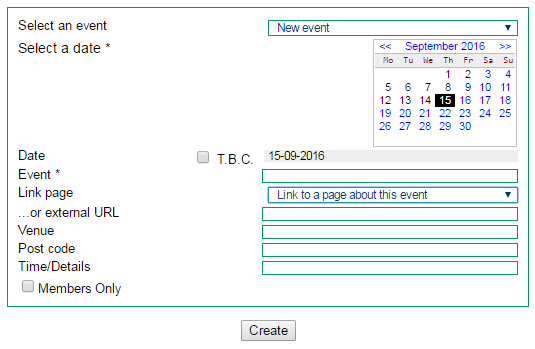 The administrator is able to control whether public holidays and notable dates (such as valentines day) are included/excluded or displayed on demand. The Venue and Time/Details columns may be renamed.
You may also determine how long to retain previous events (up to one year) to make it easy to duplicate or re-date a recurring event.

notable
May

2018

Venue

Time/Details

Mon 28th

Spring Holiday

June

2018

Venue

Time/Details

Sun 17th

Father's Day

August

2018

Venue

Time/Details

Mon 27th

Summer Holiday

October

2018

Venue

Time/Details

Wed 31st

Halloween

November

2018

Venue

Time/Details

Sun 11th

Remembrance Sunday

Fri 30th

St Andrew's Day

December

2018

Venue

Time/Details

Tue 25th

Christmas Day

Wed 26th

Boxing Day

January

2019

Venue

Time/Details

Tue 1st

New Year's Day

February

2019

Venue

Time/Details

Thu 14th

Valentine's Day

March

2019

Venue

Time/Details

Fri 1st

St David's Day

Sun 17th

St Patrick's Day

Sun 31st

Mothering Sunday

April

2019

Venue

Time/Details

Fri 19th

Good Friday

Mon 22nd

Easter Monday

Tue 23rd

St George's Day

May

2019

Venue

Time/Details

Mon 6th

May Day

Mon 27th

Spring Holiday

August

2019

Venue

Time/Details

Mon 26th

Summer Holiday

December

2019

Venue

Time/Details

Wed 25th

Christmas Day

Thu 26th

Boxing Day

The above dates may change without warning
Have a look at some live calendars: