Email forwarding
The email system that comes with your website is a very useful tool.
Here are just a few of the advantages:
Sending emails to other club members is much easier with a consistent style such as first name or first name and second name (depends on the membership of the club) so I would be juliet.browne@your-club rather than jaebee@aol
Using an email address based on the club domain name provides a better image on any advertising and reduces unwanted spam (emails pass through our spam and virus catchers before they are forwarded)
Sending emails to a team, group or sub committee is much easier than typing each individual member's email address and avoids the risk of omitting someone! Eg fundraising@your-club or committee@your-club
Emails to generic titles such as treasurer or secretary are very useful for directories or club stationery - the email is forwarded to the postholder. Rather than change directory entries or stationery every year (or whenever the postholder changes) you simply update the email forwarding so that emails are directed to the new postholder.
Your website email forwarding system allows for up to 100 names (if you need more let us know). So there is plenty of opportunity for everyone to have an email address - it's quick and easy to set up.
Setting up email forwarding
Go to the Members area and select Email forwarding.
Enter the member's name in the first column (eg Dorothy Munnings)
Enter the name of any committee, if they hold a post (eg secretary, chair, treasurer) add this name, separate groups or posts with a comma eg: secretary,committee
Finally add the member's personal email address
Finally once you have completed adding a member click update. This saves the entry and checks that the domain name exits, the entries are then placed in order of first letter of the first name.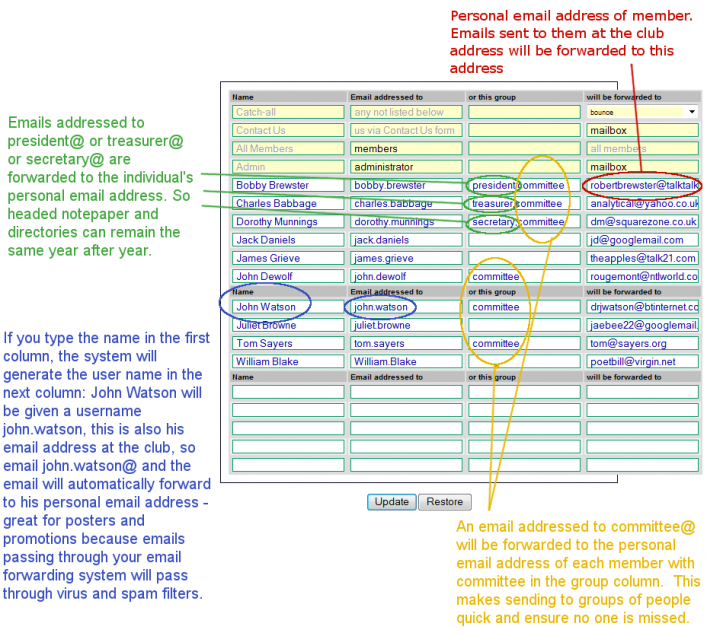 It is also worth reading the notes below the email forward table when you are logged into your club's website.
Important note about column 2
The email name (column 2) is also used to create a username for the member so they can view or edit (according to the priveleges set by the webmaster). So the last on the list, William Blake, will use william.blake as a username to log in. Find out more...